From food waste to bio-based coatings - ECOFUNCO results
Current flexible packaging relies on fossil-based solutions to protect food from water and oxygen, thus limiting the recycling or the biodegradation of both coating and substrate. Multi-layers of cellulose or plastics combined with PET, EVOH and PE are widely present in the market, and petro-based versions of these products are currently preferred, despite their negative environmental impact.
During three years, 17 research and industrial partners from 8 countries worked together to achieve significant results in biobased and biodegradable coatings that could outperform the materials currently used in the market with bio-based alternatives. ECOFUNCO aimed at developing coatings and multilayer materials with biopolymers extracted from agri-food waste streams that can also be biodegradable, allowing the replacement of petrochemical products with biobased materials with the same properties.
ECOFUNCO: inspired by nature for a circular future
Thanks to the interconnection between research organisations, society, funding and policies, biomasses are transformed into new high-value products to help in the shift of turning waste into the centre of new value chains that can help to reach the minimum use of virgin resources and the minimum creation of waste. 
Read more on the ECOFUNCO project page.
The challenges of low adhesion of some bio-based coatings on both plastic and cellulosic substrates and the permeability of bio-based polymeric materials to water and oxygen have been faced. 
ECOFUNCO approached these challenges by addressing both the production of advanced bio-based coatings by functionalization and blending of bio-based molecules and the modification-treatment of the cellulosic and plastics substrates, to improve coating adhesion and performances. ECOFUNCO coatings have been applied on cellulosic and plastic substrates to enhance the performance of food packaging and tableware in terms of either moisture and oxygen barrier, hydrophobicity or grease contact, as well as inhibition of fungi and bacteria growth in paper and plastic coated with antimicrobial and antioxidants coatings. 
ECOFUNCO: from food waste to biodegradable packaging
ECOFUNCO has reached important results as regards the development of coatings from different sources and with methods based on solvent extraction or other innovative processes, such as microwave-assisted extraction (MAE), ultrasound-assisted extraction (UAE) or supercritical Fluid Extraction (SFE). Also, important achievements have been gained in the production of Medium chain length polyhydroxyalkanoates (mcl-PHA) and microbial cellulose. 
Discover the Open Access publications here.
The materials have been tested according to the offical standards with significant results in biodegradation completed in the benchmark time and without any toxic release into the final compost (that can be used as fertiliser). Several demonstrators have been produced with substrates and materials tested at pilot scale, reaching TRL 6 and validation of the prototype in an operational environment.
The chitin, cutin and protein coatings were applied to different substrates and the application was tested for the following demonstrators: 
Bioplastic multilayer trays for dairy and meat products
Bioplastic lid for multilayer trays
Cellulosic-based trays for dairy and meat products
Lids for cellulosic-based trays
Tableware cellulosic products
Tissue box with recycled paper board packaging with chitin coating 
Virgin cellulose tissue with polyphenols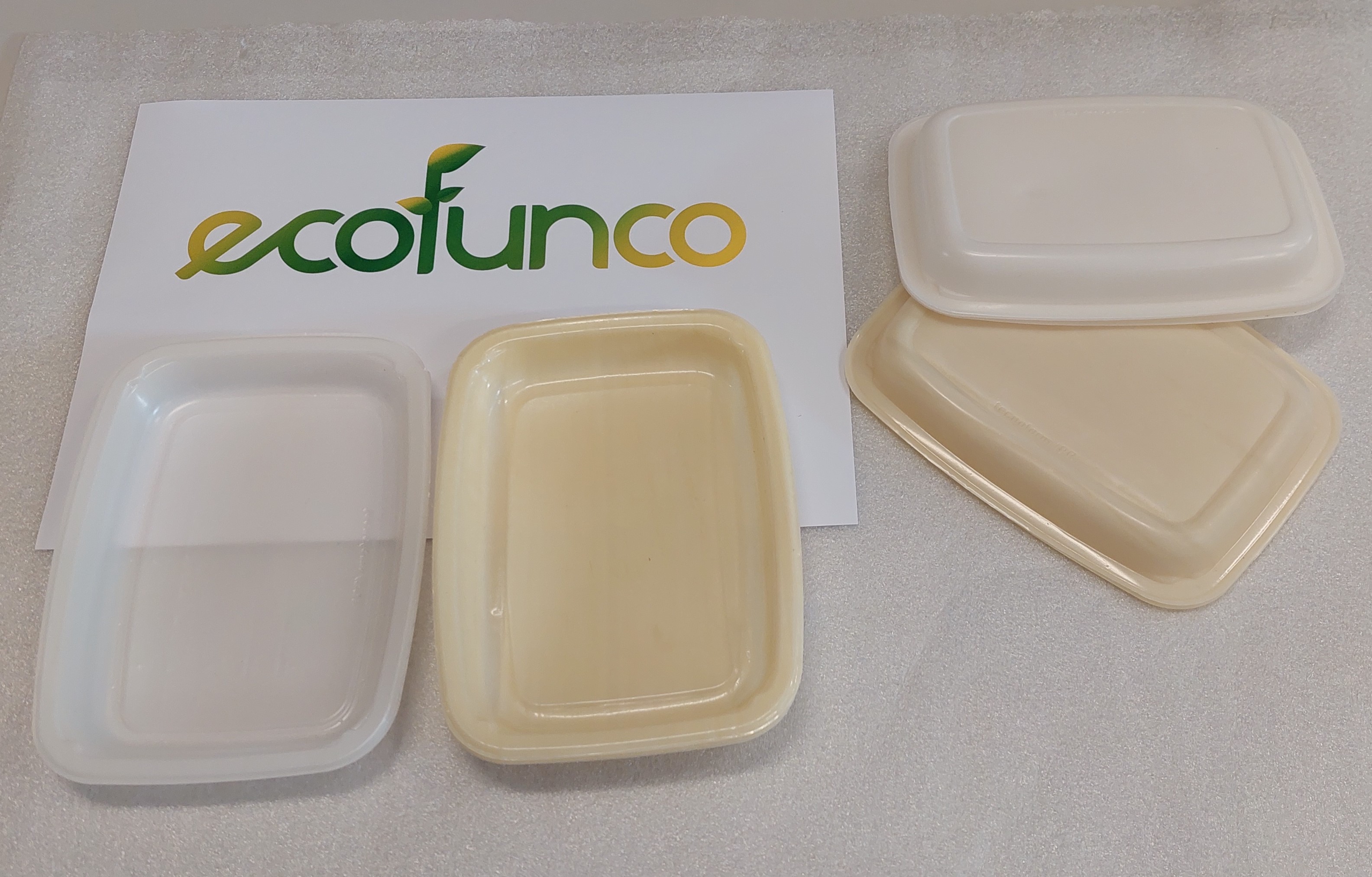 The cellulosic and plastic demonstrators were subject to LCA andalysis and they provided comparable or lower environmental total impact if referred with already on the market benchmarks. Shelf life and REACH analyses also demonstrated very promising results for the ECOFUNCO demonstrators. 
The processes and materials developed in the project are not meant to stay in the project. During the 3 years, partners have been keen on disseminating their results. They have participated in more than 70 events, published 12 open access articles, applied for 3 patents and shared their knowledge in one workshop and one scientific conference. 
ECOFUNCO project has come to an end, but its legacy will last long after the closing of its activities. 
Discover the results in the latest video: Transforming food by-products into compostable packaging – Results from the ECOFUNCO project
You can follow the partners' activities and the funding institutions (CBE JU, BIC and European Commission) if you want to know more about future research activities related to the results achieved in ECOFUNCO. 
This project has received funding from the Bio-based Industries Joint Undertaking (JU) under the European Union's Horizon 2020 research and innovation programme under grant agreement No 837863. The JU receives support from the European Union's Horizon 2020 research and innovation programme and the Bio-based Industries Consortium.