ECOFUNCO launches its Multi-Stakeholder Platform
After months of research and discussion, the ECOFUNCO Multi-Stakeholder Platform is finally available and ready to be browsed by all stakeholders interested in the topics handled by ECOFUNCO: biomass valorisation, bio-based coatings and sustainable end-of-life options.  
The ECOFUNCO platform answers the necessity of reuniting in one place different sources, relevant for the development of new bio-based products and to boost new solutions for a circular future. 
Involving different actors of the value chain, the main objective of the platform is to provide useful and verified information to help the innovation in the field of bio-based coatings. 

As we want to boost all the actors of the value chain and the previous analysis, one of the sections is About the sector. In this section, the visitor can find a list of institutions providing market analysis and reports that can help framing the state of the art and possible ways of development of a product. The Tech & product marketplaces section offers the possibility to browse different online marketplaces where is possible to buy and sell chemical and biochemical products. 
When developing bio-based products, an eye on regulatory requirements must be taken. The Policies and legislation section presents an updated summary of pertinent EU rules and regulations within the bio-based economy. Offering a range of existing guidelines and direct links to EU law, as made available by the Eur-Lex website and other reputable secondary sources, this page provides a legal overview of the different sectors that collaborate within the project. 
Related with the institutions, the Funding and Tenders section offers the possibility to browse different opportunities for project financing. As many of the calls are for consortia, the section Find partners will help you look for partners or already existing clusters to take advantage of the opportunities available for bio-based projects.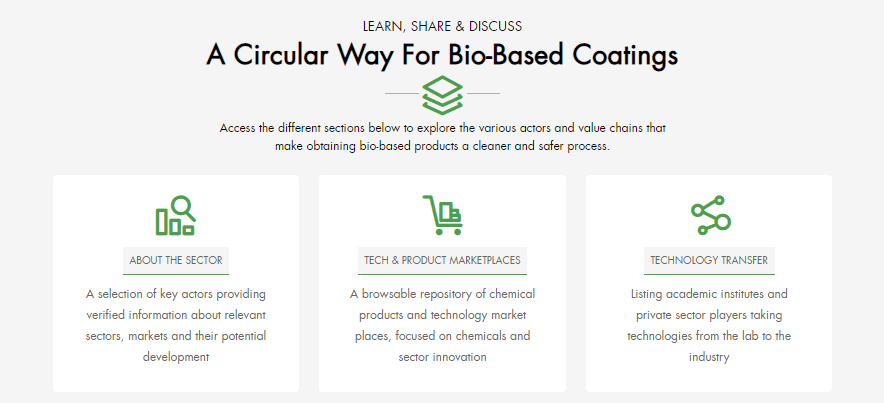 The Events section offers a selection of the major online and face-to-face events to share and discuss relevant achievements in the sector of bio-based economy. 
The EU projects section has been thought as a list of funded EU projects related with ECOFUNCO. This list will provide an insight on ongoing research and on the future of research. 

Last, but not least, the Technology transfer section. In this area of the website a recompilation of institutions providing technology transfer services is presented. In order to engage interested institutions, external stakeholders can fill in the form on the page to be featured in the section. 

New sections will be added soon, including the most extensive compilation of relevant forums and expert groups. 
Do you miss any information? Please tell us about your interests through the contact form. 
 
This project has received funding from the Bio Based Industries Joint Undertaking (JU) under grant agreement No 837863. The JU receives support from the European Union's Horizon 2020 research and innovation programme and the Bio Based Industries Consortium.